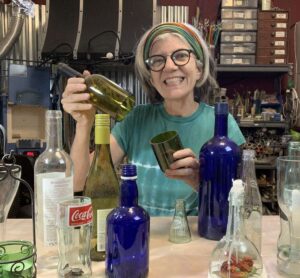 Are you struggling with all of the information and  youtube videos on how to cut bottles?  And once they are cut, how to finish them?   Or, Maybe you don't know what to make with all of the bottles you just cut.
Having a backyard filled with bottles can be hard on relationships, as well as your HGTV inspired back patio.
I used to have the same frustrations.
In this course, you will learn how to successfully cut bottles in 2 different ways.  
We also create 5 different projects that are inspirational and informative.  Start with these and then let your imagination go wild!!!…   (I always come up with more ideas for using my bottles as I cut them.  The list can be endless and super fun!.)
Having quality work to give as gifts or sell to your customers will promote a sense of durability and longevity that everyone will appreciate purchasing and using your handmade glass work.
Hello,  I am Bronwen Heilman,

I have been working with glass since 1996, and I have been working with Bottle glass since 2007.
I love repurposing bottles into something useful for everyday use, and for gifts. 
I have a lot of experience with this glass, and have figured out ways to increase your success rate at cutting bottles.  We will learn 2 different methods, both very successful!!
This mini course is perfect for people just starting out in this journey, and for those more seasoned.  
See you in class!
This is a great combination of a project driven course and a technique driven course.
You will learn how to cut bottles, how to polish the lip, and how to make some really fun projects.
There are 2 different methods.
One is more of a quick and dirty method. Pretty easy, and gets great results.
The second one uses a torch and other easy to find tools.
I personally use both of these methods all the time.  One is not better than the other, just different.
Is this a good course if I have never cut bottles before, but I want to learn?
YES!  This is a perfect beginner class, as well as a more advanced class.  You will learn many ways to cut the bottle and many time saving tips.
I have never used a torch before.  Is this the right course for me to start my recycling glass journey with?
YES! I think this course is perfect for you.  Method 1 is a non-torch method. 
Method 2 is best for people with experience and are comfortable using torches.  (I do not go into how to set up a torch area in your studiio.  Nor do I go into how to light the torch.  Method 2 is best for people already trained on the use of torches.)
You will get excellent results using either method.  (I personally use Method 1 a lot!!)
Are you available to help me if I have questions?
YEP!  (TAG ME) in our private facebook group.  
I will answer you as quickly as I can.
I will be actively in our private facebook group for one week after the course launches, checking on your progress.  (so please share your successes and failures, we all learn with every share).  After that time, please TAG me, and I will answer your questions as soon as possible. 
How long do I have access to this course
Forever, or until my website closes.  (a long – long time)
What tools do I need to take this course? 
Method 1:
Bottle Cutter, tap water, hot water, sand paper and a diamond sanding sponge.
Method 2:
Bottle Cutter, torch, lazy susan. 
What do I do if I am having problems accessing the course content
First, log out, then log back in.  You must log in under the same email that you used when you purchased the course.  If you can not remember your password, request for a new password.  (check your spam folder for an email from me if you can't find it in your inbox).  Watch the video on "How to Use This Platform".  The video is located on the home page of the 'Glass-Academy' (It is the video of me in front of a brick wall).
If you are still having problems, email me.
What is Included in This Course
One Private Facebook Page
Stay at Home
Use your own tools
Use your own bottles
Clean up your backyard
In person class: 100.00. (and it may be canceled if not enough people sign up)
No travel expenses (savings of approximately 400.00)
No hotel expenses (savings of approximately 250.00)
No restaurant expenses (savings of approximately 150.00)
Early Bird Special On-Line Price…
Prices will go to 100.00 on April 3.  Sign up today!
Here is what a few of my students are saying:
Her classes are waaaay too much fun! I have been saving bottles a long time! It is NOT hoarding if you have a plan...thank goodness for Bronwen's class! Now I have a plan
Great class. That was a lot of information and tips. Much more than I anticipated . Thank you
Enjoyed the class, detailed and organized.