Octopus colors:  Bronwen's Choice
These caps are sold separately.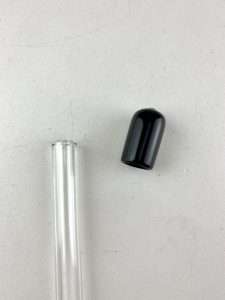 Help save the evnironment!!!  NO MORE PLASTIC STRAWS IN THE OCEAN!
***NOTE:  International shipping, I will figure out the shipping and bill you the difference.  It is usually around 20.00 USD
***Note: US shipping.  If you only order 1-4 straws, check out normally.  If you order 5 or more straws, I will send you another invoice with the extra shipping.  
Care and Use instructions for Glass Straws
These straws are made of borosilicate glass. Borosilicate Glass is very durable. They are dishwasher safe.   Please place the straws in the silverware rack, or hand wash using soap and a small brush. (I would hand wash these because the octopus is protruding from the straw itself.) Please check for chips and cracks prior to each use. If chips or cracks are found, do not use. An adult should supervise all children using the straws. Bronwen Heilman is not responsible for any personal or property damage due to misuse.