1/2″ fiber board prepared just for you.
Perfectly fits into the large rod warmer. (pictured below)
Each board is hardened with a fiber hardener on all 6 sides.  And one side with kiln wash.
The size is 4″ x 8″ x 1/2″– Bronwen Heilman ©2020
Care instructions:
When you first receive your board it will look like this. You will need to condition it prior to first use.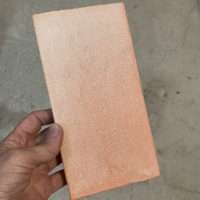 To condition your boards, set it in the rod warmer until the kiln wash turns white. Turn off the rod warmer.  When the fiber board is cool to the touch, turn the board around, and turn on the rod warmer again.  Once the fiber board turns white, it is ready to use.
(note, some electric rod warmers get extremely hot and may begin to slump your glass.  This may also cause some of the kiln wash to stick to the glass.  Just wipe off the kiln wash from the glass prior to entering the glass into the torch)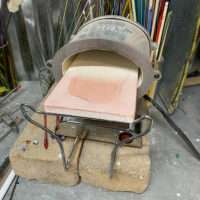 .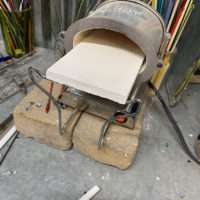 Or if using your fiber board inside a kiln, place the board in the kiln, heat up to 1000 deg. F.  And turn off.  Your board will now be ready for use. This board is NOT intended for full fusing on.  If you do, use fiber paper between your glass and the fiberboard.
This Hardened fiber board will last years if properly used.
Do not break the hardened seal on the outside of the board.
If the seal gets broken, use a fiber hardener in the exposed area and fire the piece to approximately 1200 ℉ for an hour.
Cautions:

If you need to sand or reshape this piece, use a respirator.
If you put the Fiber Board into the kiln, use caution on taking the board out of the kiln, for it will be hot.  (I use kevlar gloves)
If you have any questions:  email me at bronwen@bronwenheilman.com
Thank you -Bronwen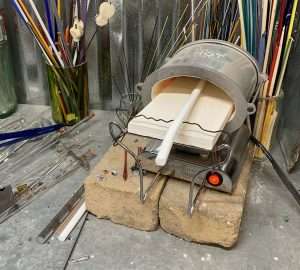 Looking for this rod warmer: (Click here)  
Or for a different brand (Click here)
(these are affiliate links)
Here's what customers are saying:
I just love the hardened fiber board that I purchased to use as a rod warmer shelf! It's so much better than the piece of graphite I was using. Stuff doesn't roll around as much and I think that it stays hotter.
Perfect! I've had a rod warmer for many years and the rods just roll around on each other (sometimes sticking) but with the addition of Bronwen's Hardened/Kiln Washed Fiber Board it is easier to stack more rods and they stay in place. It's perfect! Liz